Highly efficient, with an
improved heat transfer.
Dimpled Tubes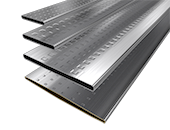 Dimpled tubes

Flat oval, HF seam welded

Solder coated brass or aluminium

Heavy Duty Radiator Cores
The demands made by the manufacturers of motor vehicles on the suppliers of engine cooling systems is such that there is an ever-increasing pressure to reduce unit size and increase utility of the radiator in an increasingly difficult environment for heat transfer. This has led to the development of high efficiency, secondary surfaces on the air side with the adoption of designs that are more common in the aerospace sector.
The improvement is brought about by increasing both the water side and air side heat transfer coefficients. However, when applied to a radiator core, it would seem that any improvement brought about by the dimpling is a result of changing the heat transfer characteristics of the air side primary surface. These improvements to the radiator core are from the air side, primary surface boundary layer being "tripped" by the dimples, becoming more turbulent and displacing thermal energy from the surface by an increase in the diffusion of mass through the boundary layer.
A further consideration to a system that uses dimpled tube, is that it will have a much larger pressure drop than one with a plain tube and will therefore, require more pumping power to achieve the same water flow rates.
Details and results from an experimental facility, designed to measure and compare the heat transfer characteristics of a plain and dimpled radiator core tube, are available to download in our whitepaper.
Contact us to discover more about our high quality, dimpled tubes that can be custom designed and manufactured to your specification and/or drawing. With tooling available for hundreds of profiles and dimple rolls with different patterns, we can quickly check to see if your requirements could be immediately produced.
---
Sample Dimpled Pattern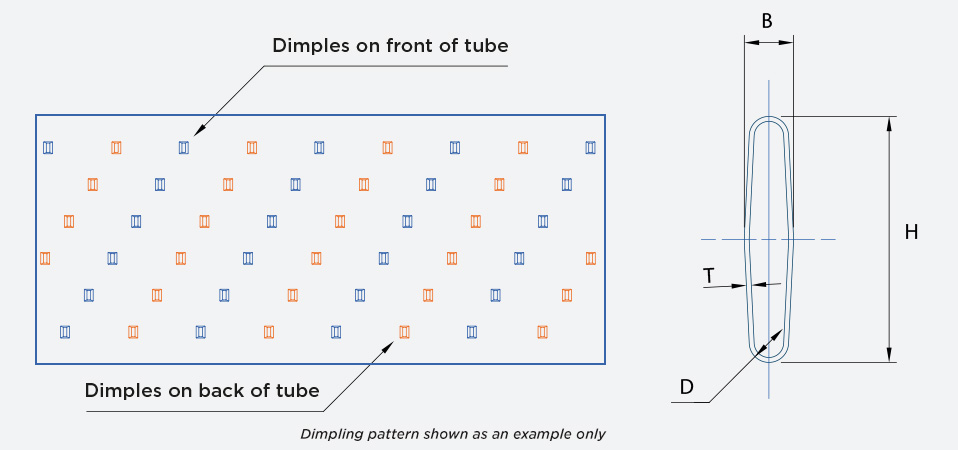 ---
Key Benefits
The real benefits of Dimpled tubes over plain tubes are from an improved, overall heat transfer rate. Thereafter, the benefits are dependent upon the substrate selection, typically brass or aluminium, and would therefore, include:
Environmentally friendly
High strength
Corrosion resistance
Size control
Lightweight
Thermal performance
Durability
Maintainability (can be repaired)
Applications
Dimpled tubes from Enfield Tubes are used across a range of demanding on and off highway applications within a number of markets including:
Marine
Agricultural equipment
Trucks
Construction and mining
Bus
Locomotive
Industrial power generation